Vegetable gardeners anxiously wait to ripen the sun-warmed, sweet tomatoes. This red, juicy, and flavorful vegetable is kitchen-friendly. Tomatoes can grow almost everywhere. So, if you want, you can grow this delicious item in your home-vegetables garden. While cultivating, you should provide extra-care to these plants to grow properly and give you vibrant and healthy tomatoes. With this, you can also save a little from your grocery shopping. To make this plant grow quickly, you must use best tomato fertilizers to give them the necessary nutrients.
---
Best Tomato Fertilizer 2021 Reviews (With Pros, Cons & Verdict)
Tomatoes are very hardy plants and can grow almost in every zone. But this crop is surprisingly very much high-feeder. So, you need to give rich supplements for the healthy growth of the plant all around the year. Hence, you need some good fertilizers for tomatoes to give the plants essential nutrients. By receiving these fertilizers, your tomato plants will be healthy and start giving this juicy vegetable throughout the year. Just go through the article to get the clear idea of the top 9 best tomato fertilizer 2021 for your home garden.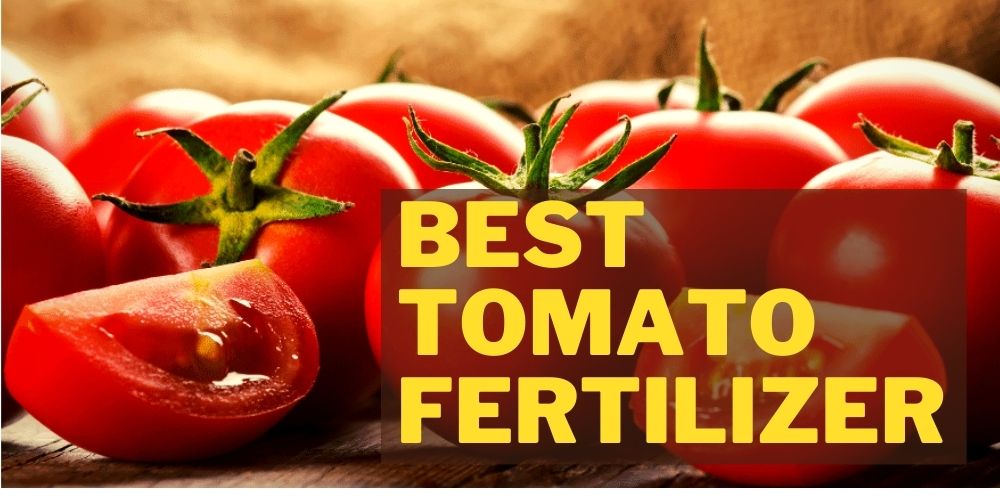 Product #1: Miracle-Gro Water Soluble Tomato Plant Food, 1.5 lb
Miracle-Gro Water Soluble Plant Food is very effective for tomato plants. Using this fertilizer your plant can get the perfect amount of nutrients and give you plentiful red tomatoes. You just need to add this plant supplement with the required liquid in the perfect ratio and spray to the plants. You need to apply this fertilizer for tomatoes after one or two weeks to get the best result.
Perfect for mainly tomatoes and other vegetables
The all-plant-safe formula is present
Use after every 1-2 weeks
Instantly starts working
Provides 600 square feet of coverage
It has 5.0% magnesium, 0.051% copper, 0.101% iron, 0.051% manganese, 0.050% zinc as an essential nutrient. It is also a mixture of 18-18-21 quantitative supplements of NPK proportion of micronutrients. This perfect blend of nutrients helps your tomato plant to grow and flourish quickly. The all-plant-safe formula is present in this best tomato fertilizer which will not burn your plant when applied as directed. This fertilizer comes at 1.5lb of pack. It can give nutrients around 600 square feet areas.
PROS
👍 Excellent for tomatoes and other vegetables.
👍 Well-mixture of macro and micro-nutrients.
👍 Can be applied through spray, garden-feed, and watering.
👍 Perks up the plants magically.
👍 It can keep your plant green and luscious even in hot and humid weather.
CONS
👎 May burn some acidic plants
👎 Weight of the packet is conspicuously hidden at the bottom
👎 Not suitable for calcium deficit plants
👎 Priced high
Our Verdict
"This fertilizer is very reliable for the tomatoes as well as other vegetables in your lawn garden. It can keep your plant artificially green in hot temperature. Applying the fertilizer properly, can bring you beautiful tomatoes both early and throughout the year."
---
Product #2: Tomato-tone Organic Fertilizer – FOR ALL YOUR TOMATOES, 4 lb. bag
You can produce delicious and tasty tomatoes with Tomato-tone Organic Fertilizer. It can grow other vegetables, like- squash, cucumber, and pepper along with tomatoes. This fertilizer does not carry any harmful components that can affect your plant. It needs to be applied every 10-14 days.
Ideal for tomatoes and many other plants
Calcium prevents blossom-end rotting disease
Contains no toxic components
USDA claimed this to be environment-friendly
Bio-tone formula is present
It is a natural high-quality fertilizer for tomatoes with 3-4-6 NPK supplement proportion and 15 basic vitamins and minerals. 8.0% calcium presents in it helps to prevent the rotten disease of the plant and can make the plant strong and healthy. It is environment-friendly and carries no toxic elements. It gives complete balanced feeding to the plants to help perfect blossoming. This fertilizer would not destroy any of the plant's leaves. USDA approved this as an environment-friendly fertilizer used for organic gardening.
PROS
👍 Provides moderate nourishment to the plants.
👍 High-quality and highly effective fertilizer.
👍 Well-blend of macronutrients and essential nutrients.
👍 Release gradually into the soil.
CONS
👎 Have a strong odour.
👎 Can burn some leafy vegetables unless used carefully.
👎 Contains such elements that can affect kidney.
Our Verdict
"Tomato-tone organic fertilizer is a good purchase. You will find this product to be very useful. It will help your plant from rotting, and it will grow much faster. Applying this best tomato fertilizer, you will get flawless and flavoured tomatoes all-round the year."
---
Product #3: Dr. Earth Organic 5 Tomato, Vegetable & Herb Fertilizer Poly Bag
Dr. Earth Organic 5 Tomato Fertilizer will help you to cultivate Plenty of tomatoes and other vegetables. It is a rich source of supplements which is capable to maintain wellness in harsh conditions. It is totally safe for human beings and animals as it does not contain any unhygienic materials.
It has wealthy mixture of supplements
Makes plants highly drought resistant
Can be applicable for both summer and winter vegetables
Keep feeding the plants for at least 2 months
It is OMRI-listed and MycoApply certified
It has fishbone meal, alfalfa meal, kelp meal, soft rock phosphate, mined potassium sulphate, humic acid, and seaweed extract to give enough supplements to the plants. It has 5-7-3 NPK macronutrients. Though the release of the nutrients happens quickly, but it can feed the plants for several months. The nutrients present in this fertilizer builds soil health and promotes abundant and tasty crops. The 4 lbs bag fertilizer can enrich 60 square feet or 16-gallon plants.
PROS
👍 100% natural and organic.
👍 No unhygienic chemical is present.
👍 Can be sprinkled as well as spray.
👍 Safe for animals and human beings both.
👍 Helps to quick growth of plants.
CONS
👎 When mixed with water, a bad smell may come out.
👎 Lack of calcium may end the plants rotten.
Our Verdict
"Dr Earth Organic is well-economic fertilizer that helps you to produce exceptional growth. This fertilizer will make your plants strong and healthy, protect it from pests and give you delicious tomatoes. Dr Earth fertilizer will give you a vibrant garden with abundant tomatoes."
---
Product #4: Miracle-Gro Shake 'N Feed Tomato, Fruit & Vegetable Plant Food, 4.5 lb.
You can grow better quality of fruits and vegetables with Miracle-Gro Shake 'N Feed Tomato, Fruit & Vegetable Plant Food fertilizer. You can get extensive quality of Remarkable fruits and vegetables with this outstanding fertilizing option. This best tomato fertilizer 2021 is great for your lawn garden.
Calcium and other essential nutrients are present
Prevents blossom-end rot and make the plants stronger
Can be used both for in-ground and container plants
Can produce better quality fruits and vegetables
Leaves do not turn yellow
Calcium and micronutrients Present in this fertilizer for tomatoes helps the plants to grow stronger. Calcium presented in this plant prevents blossom-end rot disease. It can provide continuous feeding to the plants for up to 3 months. The essential nutrients prevent fruit cracking in edible crops. It is ideal for both for ground and container plants. Kelp, earthworm castings, feather meal and bone meal nourish the soil with these natural nutrients. This best tomato fertilizer is specially formulated to nourish your plants.
PROS
👍 Can feed the plants for 3 months
👍 Calcium-enriched fertilizer
👍 Bunch of minerals are present
👍 Slow-release fertilizer
👍 Easy to use
CONS
👎 Can put the first dose in a bush to notify.
👎 Chemical fertilizer.
Our Verdict
"This fertilizer is an excellent product to use in your vegetable garden. You can try this one to boost your plants. Your plants will become green and leafy with this fertilizer. The added calcium effectively prevents blossom-end rot. Miracle-Gro Shake fertilizer will make your tomatoes much beautiful and juicy."
---
Product #5: MasterBlend 4-18-38 Tomato & Vegetable Fertilizer
You can have beautiful, abundant, and market-worthy tomatoes in your own garden using this MasterBlend 4-18-38 Tomato & Vegetable Fertilizer. It is also used in commercial gardens as well. The unique composition of this fertilizer helps to produce tomatoes and other vegetables with great aesthetics.
100% water soluble
It has a unique composition
Highly concentrated with all the nutrients
Comes in 3 varieties of packages
Can be used in commercial gardens also
It is a decent mixture of both micro and macronutrients. This fertilizer is available in 3 variety of packages. 1 pound and 5 pounds come in smaller packages and 25 pounds come in manufacturer's bag. For its composition, it is advisable to use it with Magnesium Sulphate and Calcium Nitrate together. It is 100% water-soluble and concentrated with all the essential nutrients, like- Zinc, Magnesium, and Copper. It can be applied both by hand spray or by sprinkling around the trees.
PROS
👍 Starts to work very quick.
👍 Works well in hydroponics.
👍 Great value product.
👍 Great source of Silica, building blocks of plants cell.
👍 Does not have any bad smell.
CONS
👎 Might be harmful for your eyes.
👎 Does not have Calcium.
👎 Non-organic fertilizer.
Our Verdict
"This MasterBlend fertilizer is a very successful one to produce leafy green vegetables and beautiful tomatoes as well. It is rich with trace minerals to give you the best result. MasterBlend is a great value product to give you strong, thick stalks along with other growth benefits."
---
Product #6: Fox Farm 6-4-4, 1-Pint FX14092 Grow Big Liquid Concentrate Fertilizer
You can have a wide concentration of vegetative growth in your garden with Fox Farm 6-4-4 Liquid Concentrate fertilizer. This distinctive fertilizer is ideal for delicious tomato growth. Essential nutrients present in it nurture your tomato plants to get a faster growth. You can use this best tomato fertilizer to cultivate roses, tomatoes, veggies, herbs, fruits, flowers, and many other plants.
Is capable to give the plants explosive growth
Major and micronutrients are present in the right proportion
Hard to burn your plant
Huge blooming
Safe product
It is a comprehensive mixture of major and micronutrients. Fox Farm Grow Big Fertilizer helps to grow your plants much quicker. Earthworm castings, Norwegian kelp and the essential nutrients help to promote the size and growth of your plant. You can apply this plant food both side of the leaves early in the morning. It contains no toxic elements that can harm your plants. You can use every 2 weeks. Mix 5 or 6 capful of it with the right amount of water and pour directly into the soil.
PROS
👍 Fast-acting.
👍 Gives the right support to the plant.
👍 Give you flavourful tomatoes.
👍 Helps to grow beautiful and flawless veggies.
👍 Easy to mix.
CONS
👎 It is a synthetic fertilizers.
👎 Measurement might be a little difficult.
Our Verdict
"This fertilizer for tomatoes is highly recommended in 2021. It can complement your garden even in blistering hot weather. As a garden-lover, Grow Big Fertilizer will be your best choice to get fabulous tomatoes and other vegetables. It will nourish your plant to grow and flourish accordingly."
---
Product #7: EarthPods Premium Cal Mag Plus Plant Food – Easy Organic Fertilizer Spikes
To boost your plant with Calcium, Magnesium nutrient deficiency, EarthPods Premium Cal Mag Plus Plant Food will be your ultimate choice. By supplying all the nutrients, it will resist the plants from diseases with providing maximum growth. You can apply this plant food to your indoor, outdoor, hanging, or potted plants.
Comes in capsule form
No pungent smell
Made with eco-packaging
Capsules breaks down quickly and starts functioning
Works very well for potted plants
This organic fertilizer has no bad smell. It will work as a resistant against local pests and drought. With the nutrients it can perk up even the weak plants to the healthier ones. You need not mix this with water. Just put the capsules directly into the soil. EarthPods need to apply every 2-3 weeks. It is a rich source of all kind of natural and organic micro, macro, and trace minerals. You should keep this best tomato fertilizer 2021 in a cool temperature. This one is good for tomatoes, veggies and for even roses to grow.
PROS
👍 No need to mix with water.
👍 Your hands will not get dirty.
👍 Has biological goodness.
👍 No measuring cup is needed.
CONS
👎 Not suitable for bamboo plants.
👎 Humid weather might cause breakdown.
👎 Works well for some specific plants, like- African Violet.
Our Verdict
"EarthPods has moreover 70 more trace elements, humic and fulvic acid, a good balance of beneficial fungi and bacteria to work well. Using this, even dormant plants will start shooting within a few weeks."
---
Product #8: EcoScraps for Organic Gardening Tomato & Vegetable Plant Food, 4 lbs
EcoScraps Plant Food is used to support the edible gardens. It is enriched with all the necessary nutrients you want to grow all plants and vegetables. The application process is easy enough. This organic tomato fertilizer is used to grow a wide variety of vegetables, flowers, herbs, and other plants.
Can give uniform feeding
Does not contain poop
Recycled materials from all over the food life-cycle is the components
Can be used in organic gardening
Can be used in all types of edible gardening
Recycled left-over materials processed by the Food Processing Industry is the component of this organic fertilizer. You can use this best fertilizer for tomatoes both for the new plantation and the already established plants. It contains no added poop and thus the application process is very easy and clean. Natural ingredients present in it can help the healthy growth of the plants. This plant food can provide a universal feeding to the plants. This one can be exclusively used for organic gardening.
PROS
👍 Very safe and organic.
👍 Easy to use.
👍 Minimal amount is needed.
👍 Great idea of recycling.
👍 Easy to apply.
CONS
👎 A bit slow-acting.
👎 The pallets might break down.
👎 Very toxic to dogs.
👎 Yellow print on the orange bag little hard to read.
Our Verdict
"This great quality organic fertilizer is great for tomatoes and all vegetables. As this plant food has no unpleasant smell, you can pick it up with using a scoop or simply by your hands and spread near the root of the plant."
---
Product #9: Espoma 050197009188 TO18 Tomato Tone, 18-Pound, 1, Multicolor
You can develop delicious tasty tomatoes with Espoma Tomato Tone organic fertilizer. This one is perfect for growing abundant tomatoes and other vegetables, like- squash, pumpkin, cucumber, and many others. Presence of Calcium in Espoma fertilizer will help to prevent the rotting disease of the tomato plant.
Helps the superior plant growth
Produces plump, juicy, and delicious tomatoes
Bio-tone formula is present
Slowrelease of this will provide consistent nourishment
No harmful chemical compound is present
You can get the best production of crops with this natural organic fertilizer for tomatoes. Your tomatoes will grow healthy, plump, and juicy. The presence of microbes will biologically enhance the superior plant growth.
The 3-4-6 ratio of NPK macronutrients, 15 essential nutrients, and bio-tone formula keep your plants grow healthy and strong. This best tomato fertilizer does not contain any harmful chemicals. It is 100% natural and environment-friendly. You will have amazing growth of tomatoes with this plant food.
PROS
👍 Highly-effective to produce flavourful and plenty vegetables.
👍 Safe, secure, and eco-friendly.
👍 Prevents blossom-end rot disease.
👍 Money-worthy.
👍 Easy to apply.
CONS
👎 It is smelly.
👎 Can damage leafy vegetables if not used carefully.
Our Verdict
"Tomato Tone organic fertilizer naturally feeds tour plant and gives you beautiful blooms. The natural components in it nurtures your plant thoroughly and helps to the fast development. You can utilise this plant food to a wide range of crops. Moderate release of it will not harm the leaves. It is supported bythe USDA for intentional cultivation."
---
Best Tomato Fertilizer Buying Guide (Updated for 2021)
We have seen the importance of fertilizer to grow your tomato plans perfectly. These best tomato fertilizers will nourish your plants to enhance their growth. Here are some of the factors mentioned below that you should look for while purchasing a fertilizer for tomatoes in 2021:
Type of the soil:

Before buying a fertilizer for tomatoes, you should examine the soil type where you are going to apply. You need to know the number of active nutrients that are already present in the soil. Because no plant will grow in a nutrient less soil. Rather, you should buy a fertilizer with having those missing ingredients. Apart from this, you need to know whether the soil is acidic. Because even the best available fertilizer would not work where acidic elements reaches to the unexpected levels.

Importance of Calcium, Phosphorus and Potassium:

Most of the time you will notice that your tomatoes starting to rot at the bottom. This happens due to Calcium deficiency. That indicates, your soil does not have enough Calcium. Thereby, you need to collect the best tomato fertilizer having Calcium.
On the other hand, Phosphorus and Potassium helps to the development of the plants. Hence, you need to pick up the fertilizers having Phosphorus and Calcium in the right proportion. Usually, there should be double Phosphorus than the quantity of Nitrogen in the mixture.
Organic one is preferable:

Plants are not able to detect whether the nutrients are coming from the lab or they are natural. You will show the result with the tomatoes. Tastes will differ. That is the reason, you pay thrice to buy the natural produced tomatoes than the organic ones.
So, to get the best quality tomatoes, you should buy the best tomato fertilizer with organic nutrients as well. Rather, chemical ones come with some potential risk factors. So, if you have the option, you must proceed with the organic ones. Soil and the tomatoes both will be beneficial with this.
But that does not mean you should totally avoid the chemical ones. Best quality chemical tomato fertilizers are also available in the market. You just need to proceed with the best quality, whether chemical or organic.
---
Best Fertilizer for Tomatoes FAQs
1. When and How to use tomato fertilizer?
You should apply fertilizer for tomatoes right at the time you added the plant into the soil. Then you should wait for some time. Once your tomato plant starts producing fruits, you need to give them plant foods in every 1 or 2 weeks until the first frost arrives.
But remember, every best tomato fertilizer has certain instructions. You need to follow them accordingly. Some requires immediate fertilizing whereas, some need to wait to fertilize until the plants are in the soil for some days.
You need to know the process of fertilizing first. Most of the plants need fertilizers at the time of plantation. So, you need to mix the fertilizers with the soil at the bottom. Then, add the plain soil on the top and put your plant on the hole. Avoid the direct contact of the roots with the fertilizers. As it can harm the tender roots.
On the other hand, if you waited till the fruit comes, you need to water the plant well and then fertilize. Some plant foods need to be mixed with water, whereas, others need to apply directly into the soil.
In case of shake and dispense fertilizers, after watering you need to spread it in the soil.
2.
What is a good fertilizer for tomatoes?
Tomatoes need nutrients much more than the others. That is why you need to supply them proper plant food or fertilizers to get the best results. There are two kinds of tomato fertilizers, organic and chemical. These provide the essential nutrients to the plants to grow healthy. But there are a variety of options available in the market. To decide the appropriate and best tomato fertilizer 2021, you need to know first the soil type. You may buy the home-testing kits, DIY, to know your soil type. After knowing the contents, you can easily decide which one would be the best.
For example, if your soil is high in Nitrogen, then you need to choose the one rich with Phosphorus and low in Nitrogen.
3. Can you grow tomatoes without fertilizer?
Some people do not want chemicals in their garden. For growing tomatoes without using fertilizers, you need to follow the below-mentioned points:
While planting your tomatoes, choose a land with Sun full day long. If Sunlight direct falls upon the plants, they will grow quickly to give you fruits
You need to plant trees with maintaining at least 3 feet by 3 feet distance
Proper air circulation will eradicate the diseases and keep away the pests
Last but not the least, healthy, and biological soil is a key ingredient to get a good result.
---
Final Verdict
Tomatoes are heavy feeders. They need nutrients much more to flourish generously. The main purpose of using best tomato fertilizer in 2021 is to grow healthier plants. The molecules of the nutrients get absorbed by the roots to make them grow faster. There are many fertilizers available in the market with various ratios of Nitrogen, Phosphorus, and Potassium. You need to choose the type to fulfill the deficiency of various nutrients according to your soil type. Some of the best market available fertilizers are discussed above with their various features, pros, and cons. Some are organic while others are synthetic. Hopefully, this discussion would be beneficial for you to decide which one would be best for you. If needed, you may also seek the advice of an expert.
The above text has clearly concluded that the use of fertilizer for tomatoes would result in you to give larger and tastier produce.