Greenworks GLM801601
A 1/3-acre farm can be easily mowed using the Greenworks GLM801601. With it, you can chop off any quality of grass- long, tall, stubby, broad or flat grasses.
In my Greenworks GLM801601 review phase, I found that the mower promises durability above everything. It has a rust-free body and a strong plastic for the deck. A foldable handlebar and seven heights to choose from, while driving the mower. It also has an auto sensor for calculating the weight of grass in the bag. Based on the load it automatically adjusts its power.
As I have observed during the years, mowing the land is a necessary evil of owning a property. Many people like me, do not like mowing. But you can't even leave the trees on their own. I realised, it just takes a month or two for the bushes to grow. This observation about my garden did not fill me with joy but rather, worry.
Worse, the wire of my corded mower always got under it making things difficult for me. To add to my woes, I needed a long extension cable. I also needed additional outlet switches to mow my garden space. My mower often stopped working midway. Rectifying these machines was costly and consumed more and more of our times.
PROS
👍 Adjustable mower height.
👍 Load sensing technology prevents the misuse of power.
👍 Cordless in every manner.
CONS
👎 It has one charger for two batteries, so there is a wait time before you are back on the field.
👎 Self-propelling is not provided. You might need to push it and that can be tiring.
---
Do all of these problems make you anxious?
I was indeed anxious and was in search of something better. It is then that I stumbled upon Greenworks GLM801601 upon the internet. A cordless land mower, it worked with rechargeable batteries. Plus, it was cordless.
I was using a snowblower from Greenworks for 3 years now, so I knew about the company. They were selling innovations that did not use gas or cords. Rather for them, simple rechargeable batteries were the solution to the buyers' nightmares.
---
Who Should Buy Greenworks GLM801601?
Before proceeding towards the actual Greenworks GLM801601 Review, you must know whether it's suitable for your need or not. In this section we will be answering who should actually purchase this lawn mower. It is for,
Majorly those who are using
corded mowers and
worse still, gas/petrolmowers.
Longer cords, outlet switches, the wire under the mower sort of problems need not bother you anymore.
People using gas machines can safely say goodbye to all the poisonous fumes, irritating vibrations and the grating noises that you withstood for all these years.
---
Greenworks GLM801601: Product Overview
Greenworks GLM801601 is well suited for mid to large-sized plain flat farms. However, the motor of GLM801601 is strong enough to facilitate mowing on uneven lands. What is interesting to note is that when the grass in your lawn is wet, the power output automatically increases for chopping them off clean.
The grass quality you can pluck out with this mower could be of any size and length- long, tall, short, thick or wet.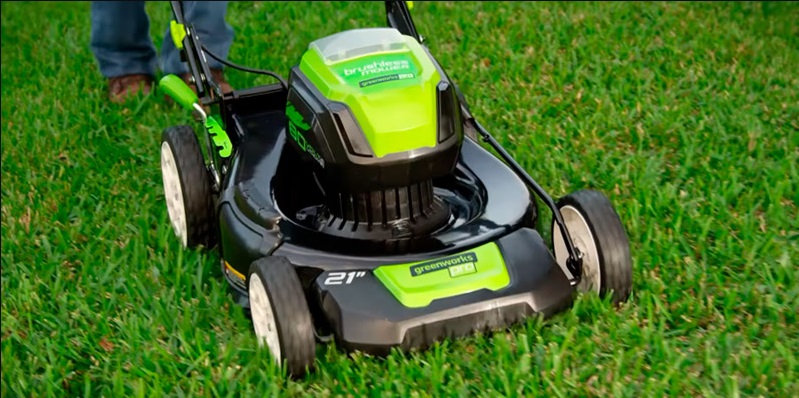 ---
Key Features: Greenworks GLM801601
Ease-of-use: It is very easy to use. Even though it weighs 62 pounds yet the machine glides smoothly on your farm.
How much power it needs: When fully charged, each battery can give you almost 60 minutes of charge. With a mid or large-sized farm, one charge is enough to finish the mowing.
Load sensing device: It comes with an autoload sensing machinery. It can automatically adjust its power. When the load is less, power use is curbed automatically. When the load is more, power rises on its own.
Height adjustment: The fun part is, there are seven heights to choose from. In short, there are seven different positions to choose from, with this mower. Choose the one that is the most comfortable for you. The height of the mower can greatly impact your performance. Adjusting it to a comfortable level can help boost your performance.
Build of the mower: An angled design and big wheels make it resemble a racer car. The neon green colour of the mower adds fun to your work in the garden.
Quality of the body of the mower: It is built of rust-free steel. The mower deck is built of durable plastics that run long.
The handlebar: The good news is it can be folded. You can lock the handlebar at the base of the machine.
---
Greenworks GLM801601 Advantages & Disadvantages
The Advantages
The mower is made to suit the environment. Nothing can beat this mower on its environmental friendliness.
It has 3-in-1 discharge abilities.
Mower's height can be suitably adjusted, according to your height and your efficiency level. Seven different types of height arrangement can be done with the mower.
Its load sensing technology is one of a kind in the market.
The best part is, it is cordless and you need not limit yourself when it comes to moving it across the lawn.
The handlebar can be locked at the base, whenever you are planning to store it compactly.
The Disadvantages
Even though it is completely soundless, however when you are moving it at a higher speed you might hear some grating noise. So be prepared for it. Ensure you have enough earplugs to move it at greater speeds.
Two batteries but one charger issue looms large on your head. So, you can't charge them both together. There is a wait time, of course, while you charge both the batteries back to normal.
The mower cannot self-propel when the terrain changes even slightly. A highland for a small distance can make you work harder. So, pushing it forward can tire you.
Some people might find it difficult to push it across the ground due to its weight. The machine weighs 62 pounds and manoeuvring it around might be a challenge for some people.
---
Greenworks GLM801601 Review: Is it Worth Buying?
Greenworks GLM801601 is extremely user friendly and a lot of care has gone into its creation. You can understand this bit, as soon as set your eyes on it. Let us thus try to find out a bit more about this product and its machinery.
Grass Collection Bag
This is one of the best features that you get with the Greenworks GLM801601. It comes with a mulch plug already installed in the rear half. If you wish to provide nutrition to your fields, remove the gas catcher bag. It is that simple! You can also use a sideway option for discharging the nutrients back to the ground.
Broad Cutting Decks
The deck of this mower is considerably broad and wide. It covers a lot of surface area at one go. Thus, the chopping process can be hastened and a medium sized land can be cleaned pretty quick.
Batteries for Power
80 Volt batteries for power, so you need not worry any longer about cords. Cords can kill your time in two ways.
1) Everytime they detach or fall short. Often while calculating the surface area we decide to mow in a day, we falter. This is when your cords seem to come in your way. So, you have to go back, fix your extra cords and switches. An effort in itself for that extra mowing you decided to complete on the spot.
2) There are times when your huge snake-like cord spirals around the bushes hindering your movement. Even then, you need to waste a lot of time beating your bushes to being out the cords.
You just need to charge the 80 V, 2 AH batteries for 30 minutes and you are all set to mow your lawn. With GLM801601 you do not have to worry about such things at all. It is completely cordless down the lawn.
3-in-1 Design
The 3-in-1 design facilitates mulching, collecting, and side discharging of your grasses. You can send back the nutrition to the ground by mulching the plucked grass easily.
Easy Storage
It comes with a foldable handlebar that can be locked at the base. This helps in easy storage of the device. The device takes almost 70% less space in your storeroom or garage. Easy storage is possible due to its vertical storage capability. Yes, you can store it vertically instead of aiming for horizontal storage.
Warranty and Price
Warranty of 4 years is offered for the mower. Lithium-ion batteries have a 2-year warranty. Any item that is defective or damaged would be covered by the company under the warranty scheme.
Price is between $333 (offer price) to $499. The price when compared to some other cordless ones, seems a little on the higher end.
---
Final Verdict
So, if you are fed with your corded, gaseous mowers, jump onto the cordless Greenworks GLM801601. Manoeuvring the huge weight could be challenging for some people. Additionally, a slight bump and the power discharge drops off. This could be slightly irritating. However, other than that, this is one of those devices that you can always rely on, for quick cleaning of your lawns and wide, creepy spaces.
The ultimate built, and the eco-friendliness of the device makes it worth the price. It is built ergonomically to suit your needs, so that is quite advantageous. Overall, I would like to recommend it, given there are few restricting factors that might come across when you are operating this device. If you find this Greenworks GLM801601 review useful, kindly share it with the people in need.