WORX WG591 Leaf Blower
WORX WG591 Turbine 56V Cordless Battery-Powered Leaf Blower is just that one product that you need to keep your garden debris free. This leaf blower is extremely powerful when it comes to cleaning your garden as fast as possible. The cordless 56v leaf blower is capable of saving your time in gardening.
Our take on this product is that it is an eco-friendly leaf blower, harmless for you, your family and your neighbours. The 56v battery including a charger gives a continuous service of 90 minutes. Like the electric cord leaf blower, this battery powered cordless leaf blower is quite handy. Those who are highly concerned regarding the environmental changes like global warming can find this one useful and safe.
If you love gardening, a leaf blower is an essential garden tool for you. Worx comes with a range of leaf blowers among which the WORX WG591 is a convenient one. This cordless lightweight battery powered provides you with all the comfort you need while using a leaf blower.
For many plant lovers, cleaning their garden becomes a monotonous, tiresome and time taking job. Those who face such problems have been able to minimize the time needed for cleaning their garden. Here we are going to review WORX WG591 Leaf Blower which is quite safer than the other leaf blower available in the market. While the other leaf blowers either need gas or electricity, this one is both eco-friendly and safe from any injuries that can be caused by the electricity.
Cities like California have banned gas leaf blowers that create a lot of noise. Moreover, they cause disease like asthma. But this leaf blower is run by battery, so this does not create much noise like the gas leaf blower. The product uses turbine technology and thus no environmental pollution is caused by this product. The high capacity air nozzle swiftly sweeps away all the debris.
PROS
👍 Has a cordless structure.
👍 Eco-friendly and the risk of injury is quite low.
👍 Lightweight design with various speed control options.
CONS
👎 The battery capacity is quite low.
👎 May not work well if not put on the highest speed.
---
Who Should Buy WORX WG591 Leaf Blower?
This is a must have product for those who want to save their time wittily from gardening. If you have any cardiovascular disease, asthma or any kind of lung problem try to avoid using gas leaf blowers which is not eco-friendly at all.
This cordless leaf blower is a completely eco-friendly product capable of saving your time, so that you can spend more time in your other essential works and with your family.
WORX WG591: Product Overview
When it comes to using the leaf blower, 1st you need to keep in mind the safety concern related to this product. This particular leaf blower is capable of making mincemeat of the rotten, fallen leafs and grass cutouts in your garden.
You don't need to connect it with any electric socket while cleaning as it is powered by battery. They are completely harmless as far as your health issues are concerned. The added advantage of this product is surely its cordless structure which makes it quite handy.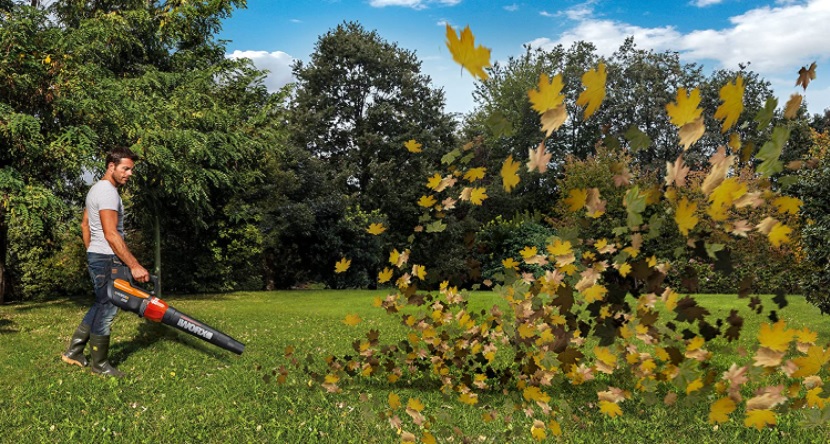 ---
Key Features: WORX WG591
Comes with a 56v lithium battery and charger.
Uses the turbine technology.
Has a speed control option.
Weight is 8.1 lbs.
Battery capacity is 2.0 AH.
Charge time is 90 minutes.
Battery speed is 60 to 125 mph.
225 to 465 cfm air volume.
---
Worx WG591 Advantages & Disadvantages
The Advantages
The time needed for charging the battery fully is not much.
The cordless design of this leaf blower can be handled easily.
This is a lightweight leaf blower, so it won't take much energy.
Does not create noise pollution like the gas cordless leaf blower.
Since it does not use any kind of gas, it is eco-friendly.
Won't harm your health with diseases like asthma, lung cancer etc.
Can produce maximum 465 cfm air volume.
You can alter the speed at any time, as it has speed control options.
This product has been given five stars by multiple users on Amazon.
This is a portable product.
The Disadvantages
The battery even after being fully charged can be used continuously for only 30 minutes.
May not have a longer life span.
Many users have found the battery quality extremely poor.
Works well only when the speed is at the highest option. The medium speed is not so satisfying.
Not as powerful as the electric cord leaf blower and gas leaf blower.
While using this product you have to be very careful as the air flow coming from it can cause injuries.
---
WORX WG591 Review: Is it Worth Buying?
Eco-Friendly
The Worx Turbine Blower brings to you one of the powerful leaf blowers that is WORX WG591. In the fair of electric and gas leaf blowers, this would be an eco-friendly leaf blower. In various cities of the USA many leaf blower brands have been banned since they use the gas which does not follow the health guidelines. The most powerful advantage of this product is that it does not make use of any gas. People who are concerned about the degradation of the quality air would love this leaf blower.
Uses the Turbine Technology
The turbine technology is one of the best technologies that are used in leaf blowers. It uses the force already present in the air and the debris turns into mincemeat. In a turbine generator the force of the air pushes the blades of the fan. The turbine blades are responsible for extracting the force. The turbine technology is designed in such a way that it emits a large volume of air from the air nozzle. Making a proper use of this technology can minimize the amount of noise generated from the leaf blower.
Battery Voltage and Electricity Consumption
The battery voltage of the product is 56 which is quite moderate. You may not need more than 30 minutes while cleaning your garden with this product. So the battery once fully charged can give you a continuous service for maximum 30 minutes. The battery is made of lithium. The battery capacity is 2.0 AH and the voltage is 56v.
Various Speed Control Option
There are various speed control options available for different purposes. If you just need to clean the corners of your garden you can minimize the speed. You just need to cut the speed down for such works that need a lesser amount of air force. While the product has various speed control options, it is best to use it at the highest speed if you want to get the maximum benefit from it.
Lightweight and Unique Design
The weight of this product is 8.1 kg that makes it quite lighter than the other electric cord leaf blowers. The cordless design of this product is helpful in reducing the weight of the product. Since it is not connected with any cord, it is easily movable and portable.
Noise Free
While gas leaf blowers are much noisy, battery powered leaf blowers are quieter. The gas leaf blowers do not follow the decibel restrictions. For a long time, using gas leaf blowers can permanently damage your ears. So in highly dense locality gas leaf blowers are big no-no. Battery leaf blowers will be the solution to this problem.
Free charger
The product comes with a charger capable of charging the battery fully that too within 90 minutes. You can call this product an infant hurricane due to its high-speed. The air nozzle can emit a balanced air flow every time you change the speed control option. However, most of the users prefer using this on high speed.
Moderate Air Flow
The volume of the air flow is moderate. So the risk of getting injured while using this product is quite low. This leaf blower is capable of emitting 465 cfm air volume through the nozzle. This huge air volume is enough for home use. In case you need to clean your home garden, this leaf blower is sufficient.
---
Final Verdict
Though the product has a very few drawbacks, it works well for home purpose. The drawbacks it has do not supersede the benefits of the product. As far as the price of the Worx WG591 is concerned, it is going to be worth the money. For the problems such as the battery cannot give you a continuous service more than 30 minutes can be overlooked. This is surely an essential garden tool if you want to keep your garden clean and tidy.